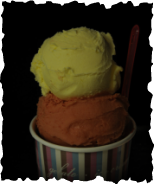 At Mike's Gelato we have been creating our own gelato since 2003! With fresh ingredients and natural flavors, we strive to make the best possible product for our customers. Gelato is the Italian word for ice cream.
It is much different, in many ways. Firstly, our gelato, has all natural ingredients. No artificial flavors or colors. (except for bubblegum and blue smurf!) It is lower in fat and calories then regular ice cream and is a very dense product, which means less is more. You will instantly notice a creamy velvety texture, even in our dairy free fruit based ones. The flavors are far more intense as well and will make you come back over and over to try new ones.

---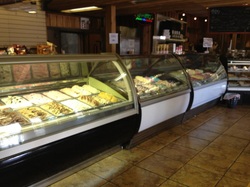 Wholesale Information:
For those of you who would like to add gelato to
your existing store, or are thinking of opening up
a Gelataria of your own, please don't hesitate to
contact us at fmerrick@telus.net. We will
be happy to help you in any way we can.
---